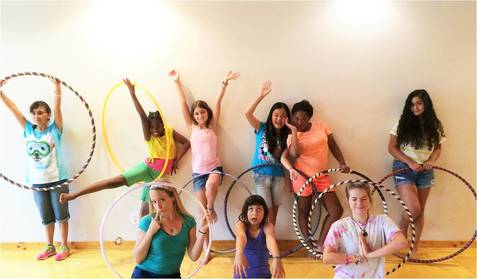 CALLING ALL CIRCUS STARS!
Ready for the summer break of your life?!
This fun and innovative camp will keep your kids active during the holidays, while encouraging lots of fun. Each class the children will focus on hula hooping and yoga as their main activity.
Throughout the week the children will be introduced to:
-Juggling
-Headstands
-Face Painting
And more!
In this summer break series, the kiddos will practice a variety of hoop tricks and play hula hoop inspired games. We'll dive into everything from hooping with hula hoops, to playing hoop tag! The children will be so talented at the end of the series, you'll think they joined the circus!
CAMP DATES:
May 29 - June 3 and Aug 7 - Aug 11
Ages 5-9 1:15-3:00pm
Ages 10-15 3:15-5:00 pm
What our clients are saying...

"Madison made an incredible impact on my kids in a short amount of time. Their hooping skills greatly improved and their confidence soared. Hoop camp over the holidays was a wonderful experience." -

Cheryl