Host Your Next Class, Workshop or Event at Studio NiaMoves!
Did you know you can rent our beautiful spaces at Studio NiaMoves for your own event or gathering? ​

We welcome community partners to host your fitness, holistic wellness, art and music programs that contribute to our mission and current program landscape.

Plan your own workshop, team meeting, host a book club, private sessions, or a benefit event for your favorite charity.

​The ideas, like the ambiance, are boundless!

We currently open to hosting applications for:

​

Weekday 7:00 -9:00 a.m. classes;
Weekday 10:30 - 1:00 p.m. toddler programs;
Weekday 2:30 - 6:00 p.m. kids programs or private sessions;
Saturday afternoon workshops;
Saturday evening events.
---
​Please review and complete the Studio Event Hosting Policy & Agreement, and contact us regarding hosting your next event at the Studio.
A convenient near-downtown location

2,000-square foot studio
reception lobby
ample parking space
outside open-air deck
wireless internet
a convenient near-downtown location, a mere 20-minute drive from IAH airport

Beautiful Barefoot Studio

high-tech sound system
ceiling-mounted projector
ceiling-mounted party lights
dim-able ambiance lights
​guest storage cubbies
​35-foot-wide mirror wall that can be covered up by sliding curtains

Lobby & Workshop Room

reception lobby with shoe closets
workshop room (16ft x 14ft) can be rented separately or together with the studio
Mini-snack and drink bar
2 handicapped-accessible bathrooms, one with a shower
---
Special Facility Announcement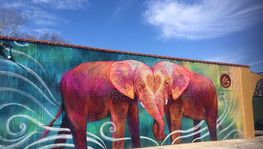 Mural, Mural, on the Wall
Social media enthusiasts looking for that next great photo can thank Hurricane Harvey for the city's newest artistic landmark. Today, Studio NiaMoves, an eclectic Heights area fitness and dance studio, announced its contribution to Houston street art culture with an electrifying elephant mural on its large east-facing wall at
508 Pecore St
. Read more...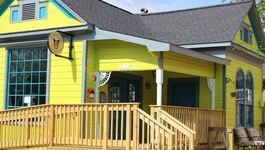 El Gato Coffee House - Cat Cottage (The House)
El Gato Coffee House
, Houston's first cat cafe, has found its home in the beautiful 1920's house behind Studio NiaMoves! The house was remodeled as the "Cat Cottage", open its door on April 8, 2017. Patrons can munch on food, sip drinks and play with adoption-ready kitties and cats from the Houston Humane Society. A food truck is utilized to provide food and beverage services.