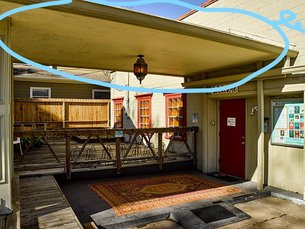 Special Facility Annoucement
El Gato Coffee House
, Houston's first cat cafe, has found its home in the beautiful 1920's house behind Studio NiaMoves! In the past few weeks, the old house got a much needed shake up and face-lift, but more upgrades are needed before it opens the doors.
We appreciate your patience and thank you for your understanding during this stage of the remodeling. We will continue to provide construction updates so that you are in the know.
Construction Update
All classes except West African Dance are cancelled on March 30 and 31 to complete important electrical improvements on the property. Dangling wires between the studio and house will be buried underground. This work is needed for code compliance.
​
It's no April Fools joke! When you return to class on April 1, expect to see clear sky instead of the breezeway roof. With this change, we'll be able to eventually plan and build a weather-proof recreational area for all to enjoy.
​
Over the next couple of months, expect to see a handicapped-accessible ramp being built along the east wall of the house, and a
shipping container will be placed at the south end of the parking lot.
El Gato Coffee House - Cat Cottage (The House)
The house is remodeled and designated as the "Cat Cottage". The work has begun as of Feb. 20. The Cat Cottage will open its door on April 8 for events and private parties. Patrons can munch on food, sip drinks and play with adoption-ready kitties from the Houston Humane Society.
El Gato Coffee House - Cat Cafe (Shipping Container on 504 Pecore Parking Lot)
The shipping container will be retrofitted and serve as the cafe where staff will prepare food and drinks. There will be a separate feline-free indoor seating area as well. The cafe is tentatively scheduled to open in late May or early June.
NiaMoves Workshops
With this change, most of the workshops that typically took place in the house have been relocated to the studio. Regrettably, we must say goodbye to the
Crescendo Family Music
and
Meditation Momma
programs. Please join me in thanking them for their contributions to the NiaMoves community, and let's wish them well in their new locations and future endeavors.
Parking
Currently, we expect four parking spots on the south end of the lot to be occupied by the shipping-container-converted cafe starting late March. We will also share the parking with construction crews and, once the
café
is open, with café patrons. Even with reduced parking spots, we still will have one of the largest parking lots in the Heights area. If the parking lot becomes full during regular class times, curbside parking is always an option.
Be careful what you ask for . . .
Studio NiaMoves is now approaching its tenth year in the beautiful Heights neighborhood.
We are committed to you and the studio's ability to serve you.
With El Gato Cafe as our neighbor, we will now have an onsite cafe serving specialty coffee, tea, cakes, empanadas and more! Very soon we will have the opportunity to linger after class over a cup of coffee from
Argus
.
The Studio

The studio is a great space for intimate concerts, trainings, and workshops. The studio is furnished with a stereo system, mirrors that can be covered up, and a sprung-wood floor. An interesting feature of our studio is the lovely birchwood floor, for which individual planks were paid for with donations from our community.​
A convenient near-downtown location

2,000-square foot studio

reception lobby
ample parking space
outside deck
wireless internet

Beautiful Sprung-wood floor

high-tech sound system
ceiling-mounted projector
ceiling-mounted party lights

mini-snack and drink bar
​​Shoeless or indoor shoes only

2 Bathrooms

2 handicapped-accessible bathrooms, one with a shower
---
Rent Me!
Did you know you can rent our beautiful spaces at Studio NiaMoves for your own event or gathering? Plan your own workshop, team meeting, have a girls' night out, host a book club, birthday party, private dance or a benefit event for your favorite charity.
We welcome community partners to host your fitness, holistic wellness, art and music programs that contribute to our mission and current program landscape.
The ideas, like the ambiance, are boundless!
To plan your next event at Studio NiaMoves, contact info@niamoves.com or via the form below.