Want to host a birthday party at NiaMoves? We have a few options to choose from...
---
Kids Hoop / Yoga Birthday Party (Kids 6+)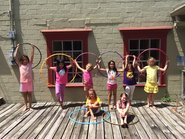 Madison leads fun and innovative birthday parties that will keep your kids active and engaged while encouraging lots of fun. The children will focus on hula hooping and yoga as their main activity.

For questions or bookings:
(832)689-3632 or
(832)233-1531
Info.madabouthoops@gmail.com
---
---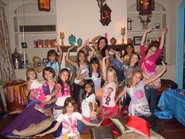 Kids Belly Dancing Birthday Party
Your child is Princess Jasmine for the day at her Arabian nights themed birthday party complete with jingling coin scarves, beautiful silk veils, and a Belly Dance lesson with Sahira! A Belly Dance birthday party is fun for everyone no matter your age. The birthday girl will receive a hip scarf of her own as well as a mix of the day's music to take home and dance to!
Contact
Sahira
for availability and booking details.
---
---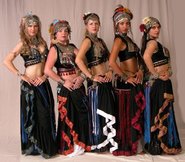 Girls Night Out / Birthday Party
​​There is nothing more fun than having a belly dancer crash your girls night for a birthday event! The dancer will perform a few songs and then it's time for you to join in the fun with a lesson. The dancer can also bring hip scarves for all your guest to borrow as they shimmy and shake. Sure to be a night to remember!
​Contact
Sahira
for availability and booking details.
---
---
What our clients are saying...
"I am a publicist and booked Amy and her partner Madison for a charity event. They are skilled hoppers which is a given, but it's the rest of the performance aspect that made them stand out. They were professional, they knew how to tailor their music choice and performance style to the event attendees, and they kept the energy up in the crowd, teaching tricks and doing challenges after. They brought hoops for everyone to use also which helped us out alot. They did more than perform they helped with the whole event. They are definitely a great choice to book for your event!" - Sarni
Copyright © 2008-2017 NiaMoves - ALL RIGHTS RESERVED