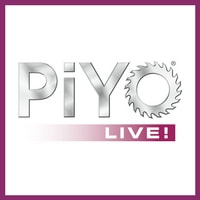 PiYo LIVE workouts follow a structure that creates a safe, effective, and consistent group exercise class for all age groups and fitness levels. Sweat, stretch, and strengthen in one low-impact, body-sculpting workout. PiYo LIVE cranks up the intensity and speed of traditional Pilates and yoga to help you shape sleek arms, flat abs, and a lifted butt—no equipment needed.

PiYo is a fusion-style of group exercise that features movements inspired by, but not limited to, various styles of Pilates and yoga. PiYo takes you through low-impact stretching, strengthening, and body weight resistance-based exercises that promote lean muscle development…. But, the fast, flowing pace increases the intensity so you're not just sculpting and defining every muscle—you're burning major calories and fat!

Each PiYo class incorporates the following styles of movement:
• Focus–Poses are held for several breaths to focus on increasing strength.
• Flow–Rhythmic, flowing style that generates heat in the body and produces a sweat.
• Fusion–A blend of focus and flow, these movements incorporate dynamic balance and functional training that challenge Core strength and balance, and emphasize the athleticism of Pilates and yoga.

PiYo classes are on Tuesdays, 7:30 - 8:30 p.m. and Saturdays, 10:30 a.m. - 11:30 a.m..

​NiaMoves membership and ClassPass accepted.

---
Daphne Arrington
yoga, PiYo & Bosschics Instructor, Occupational therapist
After a career over 13 years practicing Occupational Therapy in Rehab hospitals and the major impact of losing over 85 lbs in a personal Lifestyle change with eating Healthy and exercise, led to a desire to Help other women achieve their Fitness goals and to a New Career in the Fitness Industry.
Daphne gained her NCCA accredited certification as a Certified Personal Trainer and then became an ACE Certified Group Fitness Instructor (8/2017) and currently enrolled in RYT200 Yoga Teacher Training.
With a lifelong Love of Dance, and experience from benefits of using Dance while on her own Transformational weight loss journey,..It only seemed natural that the next step was to become a Certified BossChick Dance Instructor and share her love for Dance and Fitness to help women feel Confident, Sexy, and Empowered while on their Fitness journey.
---
You might also be interested in...
Yoga 101
Restorative Flow Yoga
HoopYogini