5Rhythms - Beneath Words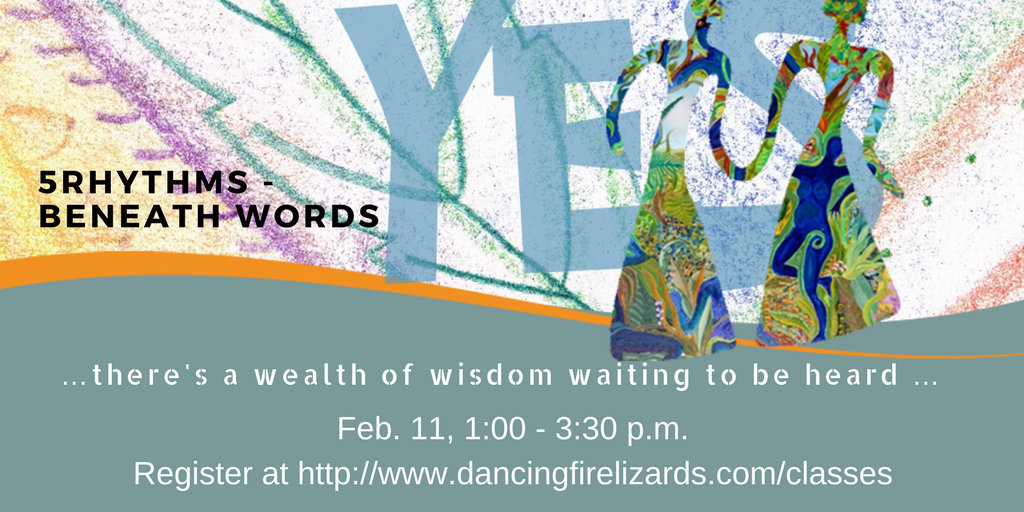 Beneath Words is a monthly, 5Rhythms® Waves-level session of movement practice that focuses on cultivating awareness of body, heart, mind, soul, and spirit in order to live a more fully embodied life. Each session includes a lightly guided warm-up, instructed practice focus, and a Wave through the maps of Flowing, Staccato, Chaos, Lyrical, and Stillness.

Though words do sometimes bubble up and name our experiences, many times the mystery passes through without ever being named. Beneath Words sets out to explore those places that live inside of us that exist without language. Who knows what you'll discover? ...about yourself, your relationships, and your place in the world... There's so much to explore. Why not dive in?

Beneath Words is designed for all genders, all levels of movement experience, and anyone 18 or older. Contact Lisa for questions about younger participants.

---
Lisa DeLand
TEACHER BIO

Lisa DeLand, certified by Gabrielle Roth to teach the

5Rhythms®

, is a committed student of both life and movement. Her teaching is infused with heart, humor, compassion, and trust for the people, the process, and the outcome. Dancing the

Rhythms

since 1994, teaching since 2007, Lisa offers weekly classes, workshops, and private sessions.

Contact Lisa @ 512/680-4212

Learn more

www.dancingfirelizards.com

,

www.5rhythms.com